Religious Group
Follow the example of Christ Spread the Love
Goal
We organize the thematic activity "Peace League", consisting of Religious Assembly, The Joy of Devotion and School Decoration, to understand Kindness and Mercy and promote the healthy development of life.
Strategy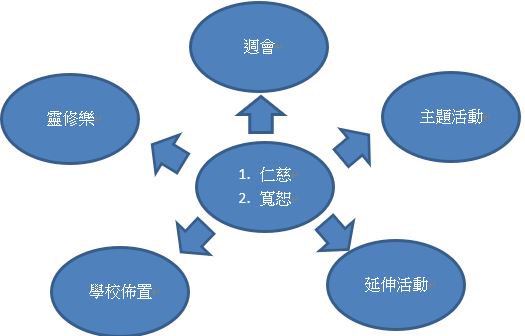 Kindness

Mercy
Weekly Assembly
Thematic Activity
Relevant Activity
School Decoration
The Joy of Devotion
Tin Chak Church and the school jointly organized the Christmas Evangelism with 280 adults and 180 children. The Christmas Evangelism, filled with rich and varied activities such as Poetry Recital, Drama Performance, Witness, and Magic Show, led participants to Christ and made them feel the love, peace and joy brought by Christmas.
Holiday Events
Christmas - Recreation of the Nativity Scene
The Birth of Jesus was the theme for Christmas decoration. Through activities like promotional videos, decorations and worship, students could understand the true meaning of Christmas, that Christ Jesus came into the world to save people.
Easter
Although classes were suspended due to the epidemic's impact, the group still held online worship services to commemorate Jesus's love and sacrifice.
---
---